Collaboration and partnerships have always been at the core of what we do, but the 2020-21 fiscal year really drove home its importance. Like everyone, we were faced with the COVID-19 pandemic. It was a time of many unknowns, but our teams came together to support each other, to support our community, and to continue their work.
We made adaptations to the way we deliver our programs. The Education and Engagement team took all their classes online, allowing us to bring our programming across the province. Our Workforce and Development team worked with employers to take intern placements virtual. Safety measures were quickly put into place for Clean Energy, Clean Transportation and Clean Coasts to continue their program activities where possible. All of this, because of collaboration.
Our team displayed a shared drive to strengthen the clean economy and make impacts to address climate change, leveraging current partnerships and welcomed new ones. The input and support from our partners is essential to the quality of our work. They help us adapt, grow and innovate.
This year we're proud to share the stories from our teams that drive home the importance of partnerships and collaboration.
Addressing climate action and social equity in Nova Scotia's urban areas
Working effectively from the intersection of two complex challenges – where energy and clean climate action intersect with social equity — the Clean Energy team's efforts address social equity and energy issues in our communities with the help of like-minded community partners
.
Not only is the team involved with a wide range of community members and organizations through its various programs across Nova Scotia, but team members also feel an innate responsibility to be an independent voice in their respective communities. By being active in community groups such as Halifax's HalifACT R3 Committee and the Cape Breton Climate Change Task Force Clean Energy team members contribute meaningful impact on the way Nova Scotia approaches energy opportunities beyond the work they do for the Clean Foundation.
YouCAN- Educating students to take climate action today
Climate change is a global issue, its effects are felt at regional, provincial and community levels. Clean's Education and Engagement team was proud to be part of the creation of a new program this past year targeted at young Atlantic Canadians called Youth Climate Action Now, or 'YouCAN'. 
YouCAN will work directly with youth as well as train teachers and informal educators on how to equip youth with the knowledge and tools needed to take climate actions and address climate change in their communities.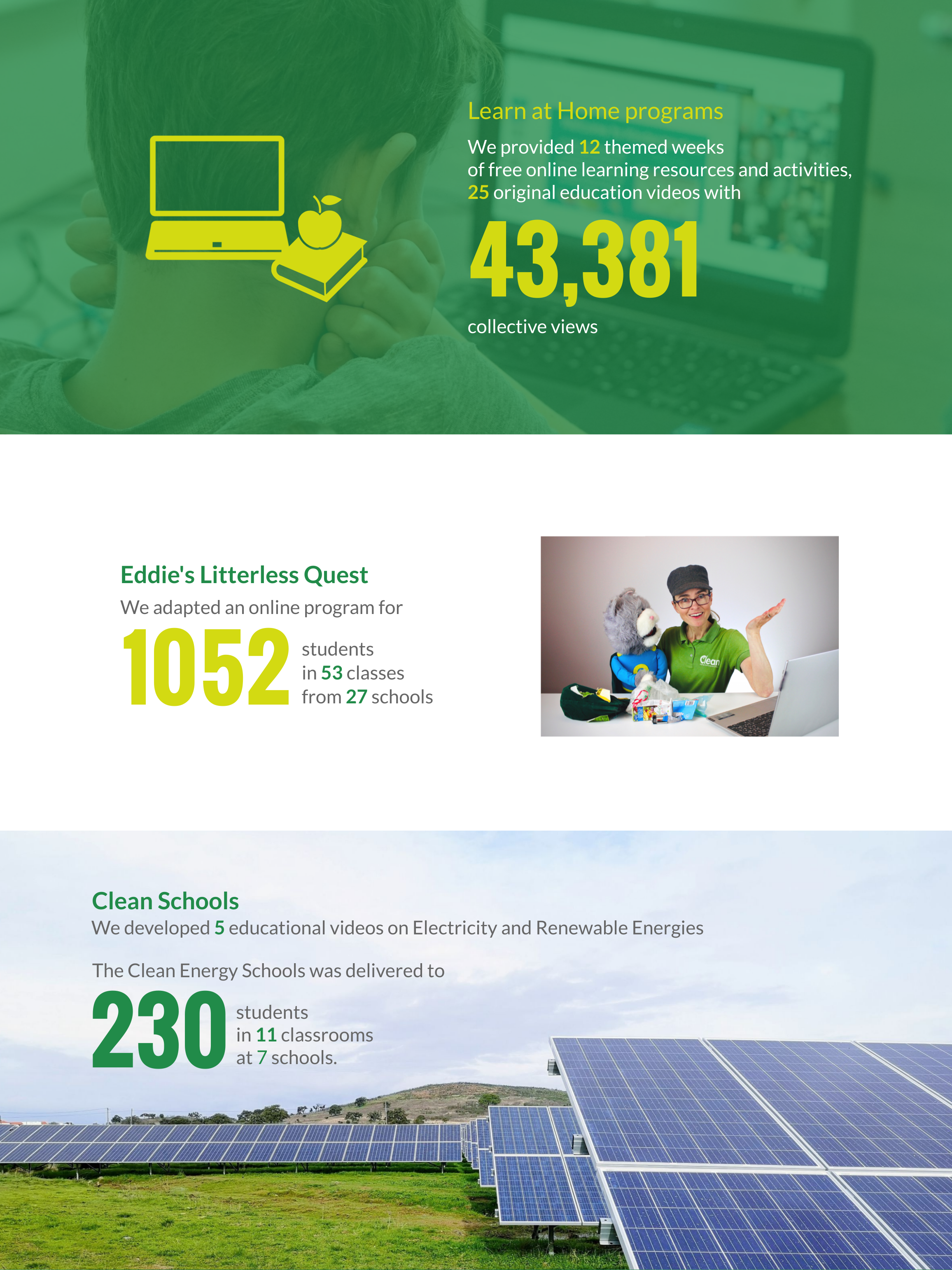 Next Ride and CAA Atlantic bring Tesla test drives to Nova Scotia
Through a two-year partnership with CAA Atlantic, Next Ride, has been able to expand their test drive program with a car many Nova Scotians have heard of, but few have had access to – the Tesla Model 3. Their mission statement is to promote EV awareness through test drives and other events across Nova Scotia. The addition of the Tesla to their current vehicle line up comprised of a Chevrolet Bolt and a Hyundai Kona, was instrumental in keeping test drive numbers high in a year where Next Ride events were cancelled due to the COVID-19 pandemic.
Record-high internship placements
The spring and summer of 2020 was a time of uncertainty for many young students and graduates as they faced the current every day challenges felt because of the COVID-19 pandemic. At a time when youth employment was at an all-time low, Clean's Workforce Development team immediately started collaborating with the partners and employers of their Clean Leadership Summer Internship and Science Horizons programs.
Their goal—to ensure all students had the opportunity for valuable employment experiences and to fulfill their 2020 internships. The result? All internships went ahead and Clean placed their highest number of interns to date!
Building coastal resilience through restoring salt marshes
In fall 2020, the Clean Coasts team worked together with diverse groups of individuals, organizations, and governments to identify, assess, monitor, and restore a salt marsh in Brule Shore, Nova Scotia. The Brule Shore restoration initiative brought communities together to improve the coastline habitat and promote coastal stewardship.
Throughout the restoration, the Clean Coasts were reminded that community support, involvement and receptiveness are essential to coastal resilience and were grateful to work with such devoted partners and collaborators during this restoration project.