Clean Foundation
35 years of action against climate change
Since opening our doors in 1988, Clean Foundation has been empowering and inspiring communities across Nova Scotia and Atlantic Canada to take action against climate change. Over the years, we've innovated, created and delivered robust environmental programs and projects that aim at creating a cleaner future for others.
Like our predecessors, our team has continued to evolve and do our part to help the communities we serve take on climate challenges. We do this by providing solutions to help them work towards net-zero emissions and to act on climate mitigation and adaptation.
I'm proud of our team at Clean for continuing to push the boundaries to make a better life for all. There is no greater measure of Clean's impact these past thirty-five years, than hearing the stories and witnessing the impact made in the lives of the people living in the communities in which we work.
Here are just a few of the highlights from 2022-2023 of how Clean, together with our funders and partners, have helped support others move towards a cleaner and brighter future for all.
– Scott Skinner, President & CEO, Clean Foundation
Clean Energy and Equity Initiatives
Clean Energy and Equity Initiatives
Creating clean energy job opportunities for everyone
The clean energy sector grows, as does the need for equitable career and training opportunities in the field. Launched in October 2022, the Clean Energy and Equity Initiatives (CEEI) helps provide equitable access to clean energy opportunities for African Nova Scotians, Indigenous Nova Scotians and other historically underserved communities. One of those initiatives is the Energy Advisor Training Program. 
Through paid-training, participants receive quality, field-based education and training as Energy Advisors. Rashelle Williams is a recent graduate of program. "I am now working for Clean Foundation as a community champion," shared Williams of her new role that sees her sharing clean energy opportunities with African Nova Scotian communities.  "I would definitely recommend the Energy Advisor Program to others because of the valuable opportunities it offers for individuals to enter the clean energy workforce."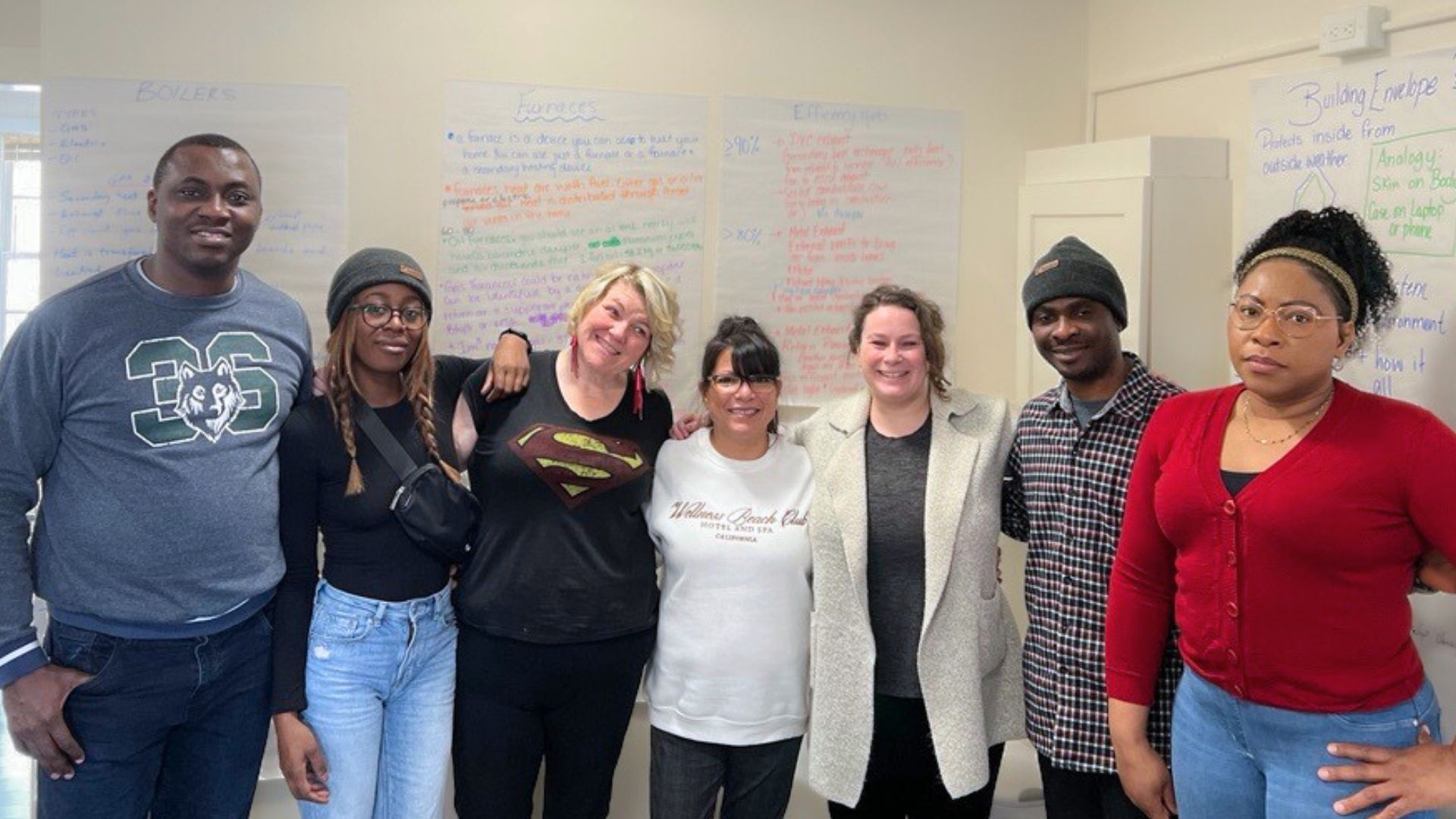 Catherine Innes graduated from the program alongside of Williams. "My career has changed", Innes said, who is now also a Community Champion for CEEI. "I am now working full time. I am doing something that I enjoy and have developed a passion for energy efficiency."  
Innes also shared the importance of her and Williams's entry into the clean energy workforce. "For Rashelle and I being the first Black and Mi'kmaq women to become Energy Advisors was a huge step for our communities," said Innes. "I'll be taking this experience into the communities to encourage others to join."
Coasts
An innovative solution to

mitigating

agricultural runoff
Agricultural runoff has been a long-time issue facing Nova Scotian farmers and communities. It can lead to nutrient pollution and create harmful conditions for wildlife and humans alike.
Through funding, from Environment and Climate Change Canada, with support from the Nova Scotia Federation of Agriculture, Clean Foundation's Coast team tested new and innovative ways to manage water quality on farmland and mitigate agricultural runoff and nutrient pollution. This led to a partnership with farmer Rod Kennedy of Antigonish, NS.  
"We recommended that Rod implement the use of woodchip bioreactors which supplement the denitrification process that occurs in soil by filling a trench with woodchips to help absorb and filter runoff," said Charlynne Robertson, Senior Manager, Clean Coasts Restoration. The process ultimately converts nitrate into a harmless nitrogen gas before entering nearby water sources.  
Kennedy had hoped that with the team's assistance, he might stop runoff from entering a nearby saltmarsh and safeguard the ecology from nutrient pollution—he wasn't disappointed.  
"It has been more than seven months since the installation of the bioreactor and I am happy with the success to date," explained Kennedy. "The runoff from my farm, now flows through the bioreactor and drains out as filtered water creating a cleaner solution." 
Both Kennedy, and Clean, hope more Nova Scotian farm owners will consider a woodchip bioreactor as a possible solution for their water quality needs and this work has now been shared with the Nova Scotia Agricultural community. 
Education & Engagement
Empowering educators to inspire future climate leaders
Clean's Education and Engagement team finished off a successful year of offering Professional Learning Workshops to teachers and educators across Nova Scotia. Focused on integrating climate and environment learning into curriculum, our programs also offer space for educators to reflect on how to authentically integrate Indigenous ways of knowing and being, including Etuaptmumk (Two-Eyed Seeing) and Netukulimk, into teaching. 
"We couldn't have done this without the support of Mi'kmaw Kina'matnewey and Indigenous educators like Stephenie Bernard," said Wil Brunner, Professional Learning Development Facilitator, Clean Foundation.  
Brunner says there has been a great deal of positive enthusiasm from participants, with workshops being delivered to more than 160 educators in the past year. The outcome? Educators are feeling empowered to integrate environmental learning into the classroom, inspiring thousands of learners across the province to become future stewards of the environment. 
Energy
Bringing affordable energy solutions to Nova Scotia homes
For over 23 years, Clean Foundation's Energy team has been helping homeowners in communities across Nova Scotia live more comfortably. With more than 85 years of combined experience, our expert team of Energy Advisors help find solutions to heat homes more efficiently and affordably. 
A home energy assessment is the first step in the process. "Many homes are freezing because homeowners can't afford to heat with oil," said Ally Garand, Home Energy Consultant at Clean.   
"Our team helps suggest recommendations for clean energy upgrades that are specific to each home," added Garand. "Plus, we help homeowners identify rebate opportunities for more affordable heating, such as Efficiency One's Home Warming Program, which could help offset, or cover, the price of a heat pump installation." 
Garand recently performed an energy audit on the home of Courtney Jensen Peacock and Byron Peacock of Hants Border, Nova Scotia and helped them identify energy retrofits to improve their home's energy efficiency.
"We had electric baseboards before and we were paying sky-high electric bills for the first two winters we've lived in Nova Scotia," said Peacock. "Using our new heat pump this past winter has at least halved our utility bill. We have consistent warmth now at a much lower price point than we've ever experienced in this home". 
Everyday Clean helps support homeowners making the transition to become more energy efficient in their lives—completing 2,461 home energy assessments this past year alone. An accomplishment Garand, and the whole Energy team, is proud of.  
Transportation
Accessible active transportation 
The Electrify Nova Scotia Rebate Program, funded by the Province of Nova Scotia and administered through Clean Foundation, is helping communities access cleaner transportation options. This past year, the Town of New Glasgow used rebates to support their purchase of eight e-bikes for residents to use. According to Veronica Deno, Active Living Manager for the town, the e-bikes have been a huge hit with the community!  
"The Electrify rebates gave us room in the budget to purchase the most bikes possible with our existing grant funding," said Deno.  "They are constantly being signed out and it's really helped create accessible active and electrified transportation options to our community members who may need it or want to try an e-bike out."
Mary Pelerine, lives in the town, she said access to the e-bikes has changed her and her husband's life. "We're both retired so we use them for purely pleasure and use them on local bike trails and down the beach route", said Pelerine. "He's a bit older and this means he can continue to come riding with me because he doesn't have to pedal all the time." 
The Municipality has even incorporated e-bikes into their operations. "We added two e-bikes for staff use, mainly for our summer programs," said Deno proudly.  
Since its establishment, the e-bikes have been rented out 79 times through the Pictou County Equipment Loan Program. Showing the positive impact funding like Electrify, has on E-bike availability. 
Workforce Development 
Creating a clean workforce built on inclusive
opportunity
The changing natural resources sector in Canada has created an opportunity for Clean to be at the forefront to help navigate a skilled and diverse workforce to meet the sector's growing demands. Being a delivery agent for the Green Jobs Internship Program, funded by Natural Resources Canada, puts Clean in a pivotal role to do just that.  
"Green Jobs helps provide employers with wage subsidies to help them hire the talent they need to grow and innovate in the natural resources sector," said Shir-vonne Rhodes, Green Jobs Program Lead at Clean. "It provides paid internship opportunities for youth, ages 15 to 30 to help them develop valuable skills in the sector." 
Clean saw 106 interns placed with employers across the country this past year. Kristina Deenik was a Green Jobs intern at Selkirk College, where she helped research the hydrological recovery of forest stands in snowmelt regions.
"I think this program (Green Jobs) is a great way to provide recent graduates with career opportunities and to allow relationships to be formed with potential employers," said Deenik. 
This year 90 per cent of interns placed were from historically underrepresented communities in the natural resources sector, including eight interns from the northern territories.  
"This was a wonderful opportunity that will certainly help my career trajectory," said Kathrine Branson of her Green Jobs placement with agricultural organization Cold Acre Food Systems in the Yukon.