By: Shauna Doll, Lead Researcher- Raincoast Conservation Foundation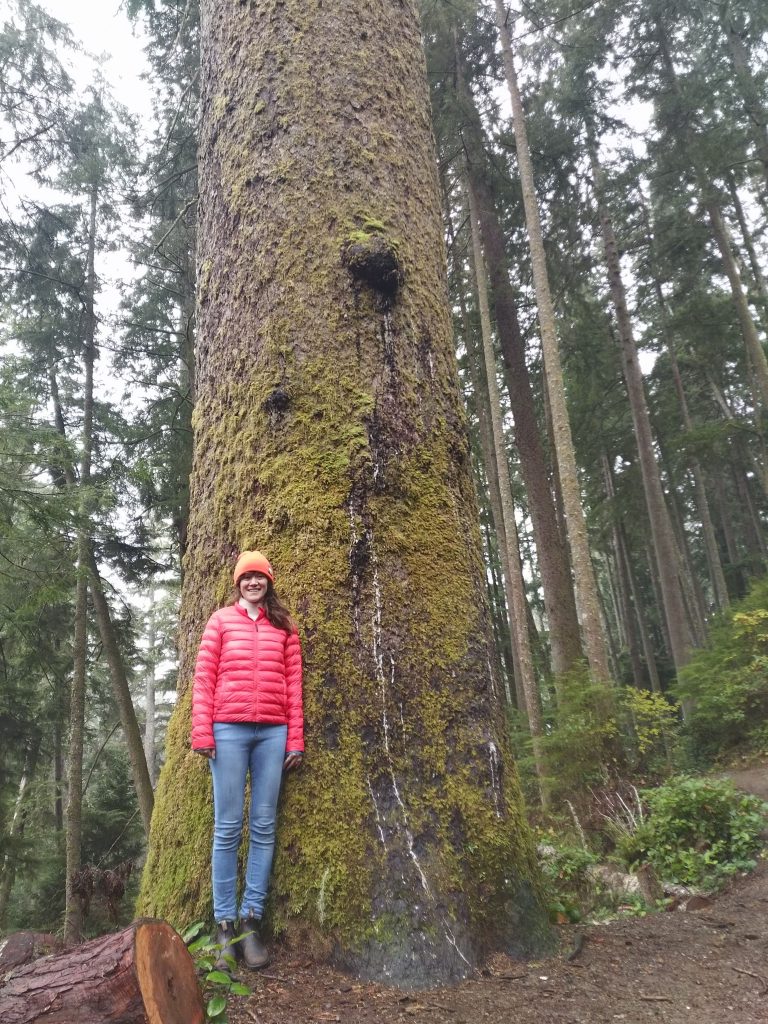 Can you tell us a little bit about the Raincoast Conservation Foundation and the project you are working on? 
In October 2019 I was hired by Raincoast Conservation Foundation to work toward improved forest conservation within the Coastal Douglas-fir (CDF) biogeoclimactic zone; the smallest and least protected of sixteen such zones in British Columbia. Located on the traditional, unceded Territory of Coast Salish peoples, in the temperate rainshadow of the Olympic Mountains, the CDF is characterized by towering Douglas-fir and Western red cedar forests; flowering Garry oak savannahs; coastal plains, shorelines, and rocky outcrops. However, this temperate climate has also attracted one of the largest populations in the entire province. As such, though it once dominated the southeastern coast of Vancouver Island and stretched across the Gulf Islands to the Sunshine Coast, the CDF now occupies roughly 0.5% of its original extent and less than 1% of forests remain in old growth. These losses are largely due to significant development pressure and aggressive industrial logging since colonization. Consequently, the CDF is widely recognized as one of the most endangered ecosystems in the entire country. Now, with the added threat of climate change, protection of the CDF is increasingly urgent, especially on the Gulf Islands where a high proportion of private land ownership makes conservation efforts challenging. My work focuses on creating pathways toward more comprehensive conservation strategies on the Gulf Islands through collaborative partnership building, fieldwork, and legislative review.
What has been your favourite part of working at Raincoast Conservation Foundation?
Raincoast is a science-based conservation organization, pairing rigorous peer-reviewed science with community engagement—an approach called "informed advocacy"—to further conservation objectives in coastal British Columbia. Thus, their projects are effective, influential, and well-respected. I am extremely grateful to work with an organization that is so dedicated to producing operational results for the betterment of communities and the environment. 
What sparked your interest in the Clean Leadership Professional Internship program?
I became interested in the Clean Leadership Professional Internship program because of its flexibility and ability to provide unique opportunities for recent graduates looking to join the "green economy". Having attended Dalhousie University for both undergraduate and graduate studies, I wanted to pursue work in a new place to expand my experience. By approving me as an intern, Clean granted me freedom to pursue work where I wanted to go. Further, I was able to approach an organization I was interested in working with and create a position according to my personal skillset and professional interests. As a result, I was hired by an organization I believe in and to do work I am passionate about.
How has the work that you are doing influenced your interest/knowledge of the environmental sector and/or clean technology?
My master's research focused on preserving ecological integrity in urban areas through improved management of institutional greenspaces. While I thoroughly enjoyed this work and remain interested in investigating and designing strategies for enhancing ecological function and biodiversity within urban greenspaces, my work with Raincoast focuses on more naturalized forest ecosystems. Accordingly, I have been developing an enhanced knowledge of conservation and restoration approaches for more rural and remote forest landscapes. Additionally, since working in the forests of coastal BC is extremely different from working in the Acadian forests of Nova Scotia, I have been learning so much about this new forest type and the ways it is managed and governed. Additionally, pursing work in this new place with new people, has enhanced my capacity for adapting to change and applying my existing skillset to unfamiliar situations. 
How has this experience helped you shape and/or work towards your career goals?
As a settler person, who does not have any familial ties to, or history in, British Columbia, with no substantial understanding of the cultural heritage, spiritual significance, or Traditional Knowledge of this land, I have been humbled to work on the Traditional Territory of Songhees, Esquimalt and W̱SÁNEĆ people. My experience with Raincoast—an organization that seeks to develop equitable partnerships with the First Nation communities in whose Territory their conservation work occurs—has highlighted the importance of pursuing reconciliation in all the work I do. Further, working on the Gulf Islands, where residents have a very strong connection to place, has reinforced my dedication to working together with communities to address collective needs and increase community-buy in, rather than forcing unwanted change on resistant people. Ultimately, this experience has demonstrated that it is important to me to engage in multi-faceted work that addresses both social and environmental issues in attempting to achieve long-term conservation. 
To learn more about the Clean Leadership Professional Internship program visit our webpage.